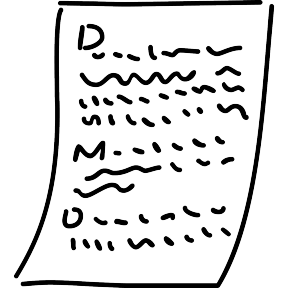 When I was a child, I remember taking my parents to the museum when we were on vacation by a lake to see a fossil exhibition. Museums were an open door to an infinity of knowledge.
When I was a child, I was worried because life was not always easy. I found, in the cartoons of Topor or Moebius, an escape. They made me feel intense emotions that allowed me to put images on the complex emotions that inhabited me, like all children.

When I was a teenager, I wondered about my body, my identity, our place in society, our place as humans, I found perspectives in movies, comics, dance performances, theater and exhibitions that I had the chance to discover. I went to Cadaquès, in Dali's house-museum. I visited Fred's exhibition, the author of Philémon. I interviewed him for the high school newspaper. I will always remember it.

When I grew up, I started working in contemporary art and I decided to take my grandfather to an exhibition. I found out that he thought "it wasn't for him". He waited for me at the door. I have always strive to make everyone feel legitimate to walk through the door of the exhibition space I worked at.
Last year in my junior year of high school, I created a radio podcast with an artist. I was able to tell about my vision of the future, my fears, my anger but also my desires.
When I was in middle school, I went to see a play. I got completely lost in the actors, their costumes, the sets and lights. That night, I realized that as long as I had art in my life, I would never really be bored. Later, in high school, a teacher encouraged me to visit exhibitions and read novels. I remember feeling reassured and less alone when I discovered that I wasn't the only one to feel a certain way. Indeed, other people in various times and places on earth had expressed them before. More recently, there have been artworks that challenged my ideas and opened me to questions that I had never asked myself until that point. Now, these questions are part of me.
I grew up in a small town part of a larger agglomeration, in which there was an indie cinema. It was one of the only cultural places of the city, therefore the community gathered there on weekends to watch all kinds of movies. After the screenings, both young and old people discussed in front of the cinema. Today, I realize the impact of this local cultural spot that has been for me a place of artistic discovery and a place where I could socialize.
When I was a child, I was often overwhelmed by my emotions and had some difficulty handling the amount of energy I had. Practicing art weekly was then a positive way to let some steam off. While in pottery class, I would let my imagination run wild and have it infuse life into the clay figures I created. By taking theater lessons, I learned how to manage my own emotions by embodying those of characters. I used the skills I developed during those classes throughout my life.
When I was a teenager, I went through some hard times, the future looked bleak and stale to me. The only moments I felt like I could catch a breath and be myself were during my art therapy sessions. Creating was a necessity. Meanwhile, I regularly lost myself in the lives of fictional characters I found in books or in films, so I could escape my own life. Those inspiring figures allowed me to feel less lonely.
When I became an adult, I was driven to the cultural sector to help others feel strong emotions and evade their daily struggles. I felt compelled to share the ideas and creations of my community so it could grow and be nurtured. I am convinced that the creative and intellectual stimulation the arts brings can encourage us to be better. Contemporary art specifically encourages us to question the current rules and imagine a better future that is more inclusive of everybody.
When I was a child, I was very curious. My grand-father used to find me surrounded by piles of books in his library, stuck between two shelves. Filled with wonder, I opened these books filled with beautiful pictures which allowed me to discover the world. With him, I understood that art was knowledge.
When I was a teenager, during a school-trip in Spain near to the city Saragossa, we visited the birth house of Francisco de Goya in Fuendetodos. I discovered his engravings about man and mankind; two of those were "unmasking the lie". There, I understood that art was the truth.
When I moved to Paris, my roommate was an art student. She pushed me into her spinning, unclear, emotional and colorful world. I loved it instantly. Her friends welcomed me with open arms. Their art was their way to express themselves, to communicate with others and unleash their inner soul. With them, I understood that art was a need.The more I grow the more I understand that art is a language that creates bonds, that shares visions, makes us learn and, most of all, learn about ourselves.
When I was a child, my favorite book was My little Orsay, combining images of works from the Musée d'Orsay with short poems. My favorite was La Pie, by Monet, a painting showing a magpie on a rickety gate in the midst of a snowy landscape. When I was a child, I was talkative, a real magpie. I also hated winter, which filled me with melancholy. When I was a child, I identified with the magpie, she conveyed everything I felt but couldn't express. On January 9th, 2015, as I was walking, I did not understand the sudden stream of police vehicles on the banks of the Seine, speeding towards the east of Paris. The whirling of the blue lights and the din of the sirens made me feel nervous and lost. I took refuge in the Musée d'Orsay, across the river. On my way out, I came across a reedition of My little Orsay at the museum shop, I had completely forgotten about it. Almost simultaneously, I heard that, two hours earlier, the police were actually heading to the Hyper Cacher, where an hostage-taking was underway. I burst into tears. More than ever, art appeared to me as a cure for brutality. When words are no longer enough, when confusion and helplessness set in, art invites us to optimism. It helps us to think about the world, its contradictions, its darknesses, and encourages us to strive for fairer and more beautiful futures. Today, in December, 2020, I am listening to the verdict of the January 2015 terror attacks trial on the radio while staring at the reproduction of La Pie hanging in my bedroom. Today, I would have loved to be at the museum, the cinema or the theater. Today, we are in need of art to start a new year under better circumstances.
I don't have any precise memory of the moment I started getting interested in art. I have the feeling that I have always been drawn towards creative activities. My first approach to art was through making it. I haven't seen a lot of artworks by other artists until I entered 6th grade and took art history classes. I remember particularly the work of Matisse and Niki de Saint-Phalle that Mrs. Biro showed us on the video projector. It is in that classroom that I discovered the pleasure so peculiar I felt when looking at pieces of art and trying to understand them.
On my 14th birthday, I asked if I could go see the "Le grand monde d'Andy Warhol" exhibit at le Grand Palais in Paris. Since that day, I always keep a deep drive of wanting to "go see things", often by myself. Visiting exhibitions is a moment that is uniquely mine. I enjoy letting myself be carried away by images, colors and shapes. At 14 years old, with my naivety and without any prior knowledge, I find in visiting exhibitions my independence, some freedom to think and imagine. Today, the artworks are still guiding me and they assist me in understanding the world.
My name is Céline, Milène, Elena, Camille, Loïc, Ariane, Anne-Charlotte, Abel, Louise, Domitille, and all my life, art has accompanied me to understand the world in which I live, to shape my feelings, to succeed in living… that's simply it.

(December 2020)