The ABCC of CACB
Coline Sunier & Charles Mazé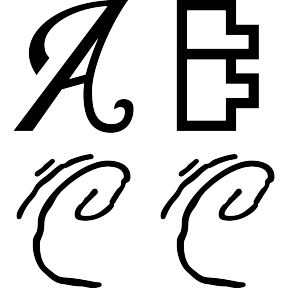 As part of their residency, Coline Sunier & Charles Mazé create an alphabet based on a collection of letters, signs, and symbols from a variety of contexts and time frames involving both CAC Brétigny and the larger territory covered by the art center, as well as artists invited to exhibit their work. This corpus is now embodied in a new typography called LARA.
Each caracter is accompanied by a caption including: a) the Unicode number, b) the name, c) the transcription of the source from which the sign is extracted, d) the type of message, e) its author, f) its technical data, g) its location, and h) the date when the source was created.
LARA has been activated on each communication supports, which are considered publication and dissemination points for the collection. The entire LARA collection is visible online on CAC Brétigny's website.
CAC Brétigny
To reflect CAC Brétigny day-to-day reality and its different activities around its exhibitions and residencies, a set of signs is added to LARA and regularly updated according to the art center's needs. The initials C, T, m, and m for the business cards of the staff members, a basket of fruit 🍲 announcing the dinner for a show opening, a hand in the act of writing ✍ for the center's postcards, a sun with a big bright beaming smile 🌞 for the center's summer closing…
CAC

B

rétigny

With the first three letters of the Latin alphabet ABC, it's already possible to write CACB, that is the start of CAC Brétigny. For the JUMP show announcing the reopening of CAC Brétigny, the first time the typography was activated it was a collection of capital letters, AAAAAA, BBBBBB, and CCCCCC, which could be seen on the center's walls inside and out and along the path to the RER C express train stop. On this initial territory, one may run into a number of letters, including the A of a sign on a shop that does alterations; a B on the signage of CAC Brétigny, designed in 2003 by Vier5—graphic designers in residence when Pierre Bal-Blanc was serving as director—and a B from the center's first logo, done in 2000 by Antoine Groborne when Xavier Franceschi was director; and a trio of CCCs by the graffiti writer COSMOS, whose name is on all the walls around CAC Brétigny.

We would like to extend our warm thanks to Patrick Le Jeanne and the Historical and Archeological Association of Brétigny-sur-Orge for having put together and given us access to the archives of the city bulletin, and to Franck Waille, who alerted us to the existence of and gave us access to the original Delsarte drawings and designs.
CAC
"

Brétigny

For "Vocales," these typographic signs and iconographic symbols signify orality, i.e., the speech, dialog, or conversation that was collected. This new collection includes elements of punctuation borrowed from the Latin alphabet—elements indicating reported speech such as quotation marks—as well as iconographic symbols that depict speech 🗨, thought 💭, or discussion 🗪 with speech bubbles. Emptied of their original textual content for the occasion, these speech bubbles in some cases retain indications of intonation, exclamation, or interrogation, and have been integrated into the typography as emoticons.

All of these signs come from local publications and local official bulletins like the monthly municipal bulletin for Brétigny-sur-Orge, which was originally called Brétigny Notre Ville (1977-1983) then Brétigny Aujourd'hui (1984-2002), and finally Parole ("The magazine that talks about Brétigny to the Brétignolais," 2003-2014), a title that was given a plural in the end, Paroles (2015–). These publications—with names suggesting an ideal form of speech going from local elected officials to the inhabitants—abound in all kinds of speech bubbles and punctuation marks. In use since 2003, the current logo of the city of Brétigny , moreover, takes the form of a word in quotation marks and has been reappropriated by the city itself in 2006 with the logo "Brétigny 2010 Parlons-en.

Other signs, finally, come from the magazine Essonne, which has been published by the Departmental Council since 1999, including the talkative borrowed 🗨 from the titling on the magazine's cover, and the logo 🗨 of the app VOX 91 ("I think therefore I say") recently developed by the Department of Essonne.
CAC
😕

Brétigny

In some of her works, the American artist Liz Magic Laser has used and modified drawings from the French singer and teacher François Delsarte (1811-1871). After losing his singing voice, Delsarte conceived an "expressive system," a method for learning and gesturing for dancers, mainly published and posthumously transmitted by his students in the United States. Preserved in Louisiana, original and unpublished drawings by Delsarte were studied by the French researcher Franck Waille. A diagram entitled Écriture du Geste from 1839 presents a succession of variations of facial expressions 👿😈😦☹😏😊😲😞😕😧😯😨😳🙄😟😐😑😒🙂😬😠😡👹🙁😖. This set of 25 faces—produced by a systematic combination of eyebrows, pairs of eyes, nose and mouth—can be considered as an early version of emoticons used in today's electronic communications 👿😈😦☹😏😊😲😞😕😧😯😨😳🙄😟😐😑😒🙂😬😠😡👹🙁😖.

Each show at CAC Brétigny is a chance to add signs to LARA and complete its Unicode characters. Introduced in 1991, standard Unicode is the official worldwide system for coding typography, assigning to each character a name and an identifying number. Including initially two smileys [☺️ U+263A, ☹ U+2639] in 1993, the latest Unicode update in 2016 brings the number of different facial expressions to over 80.
CAC Brétigny
‼
For the last part of the 2016-2017's programme,"Le Final", a collection of punctuation marks has been directly constituted within the places where the events are taking place.
Coline Sunier & Charles Mazé are Swiss and French graphic and type designers, they have been living and working in Brussels since 2009. They were fellows at the French Academy in Rome—Villa Medici in 2014–2015, and are now graphic designers in residency at CAC Brétigny, in the southern suburbs of Paris. Charles is part of the teaching staff of Atelier National de Recherche Typographique (ANRT) in Nancy. Together with François Aubart, Jérôme Dupeyrat and Camille Pageard, they cofounded the publishing structure <o> future <o> in 2009.
Images