"Les autres ou rien" (Others or nothing)
Workshop with Thibault de Gialluly at Fleury-Mérogis detention center in collaboration with Cyrille Candas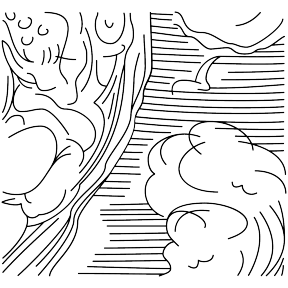 As part of this project, participants are invited to imagine and design a fictional entity that offers the chance of becoming someone else, changing identities, or disidentifying. As a kind of advisor in transvestism and faux attributes, this company is meant to enable people to appropriate new qualities – ordinary and/or extraordinary ones – modify their appearance, invent new meanings and skills, and compose a new image and narrative of themselves.
Just like the Pretender, embodying a new character with each episode, Ulysses claiming to be Noman before the Cyclops Polyphemus, Daniel Hillard creating Mrs. Iphigenia Doubtfire, Edward Norton inventing Tyler Durden, and the Danish artist born Einar Wegner who became Lili Elbe, this entity or organization aims to expand the imaginative limits of what we can be.
The workshop is about creating a visual narrative world, a collection of documents and supports by which the communications and discourse of the fictional organization can be deployed (business cards, company charter, geography, keychain, flags, symbols, schedule, slogan, logo, posters, DNA, etc.). By inventing one or more stories, and one or more characters who will wear or support the transvestite possibilities offered by the company, participants will have to define what surrounds the lives of these characters, what acts consciously and unconsciously on them, and the means with which they express themselves. What do we need so that these characters exist? Who do they speak to, and in the end who are they? How do we lend substance to an illusion and this kernel of possible reality?
Workshop designed with the assistance of Elena Lespes Muñoz, Communications and Public Outreach Manager. Realised with the support of the Fondation Antoine de Galbert.
Thibault de Gialluly was born in 1987 in Paris and is a graduate of the École nationale des beaux-arts of Paris. In his work, de Giaulluly analyzes systems of norms and values of our age, proposing a derisive rereading of history and the present through mass media, literature, and pop culture. The artist's labyrinthine "assemblages," made up of drawings, texts, and photographs are mental territories, where he attempts to do a cartography of the history of thought and political action. Besides creating official first drafts, these assemblages compare different speech and truth regimes. His work has been shown in a number of venues, both in France and abroad, including the Triennial of Contemporary Art of Armenia (2017), the Maison Rouge (Paris, 2014), Les Rencontres of Arles (2018), the Palais de Tokyo (Paris, 2016), and La Friche la Belle de Mai (Marseille, 2013). Thibault de Gialluly is represented by the Aline Vidal Gallery (Paris).