Finding Money
Antonio Contador & Carla Cruz
30.03—01.06.19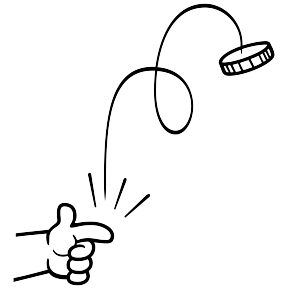 "Since 2011, Antonio Contador and Carla Cruz have been jointly building the project Finding Money, which begins with the simple gesture of picking up lost money found on the ground. This collecting is a pretext for discussion between the two artists, one living in Paris and the other in London. It was inspired by filmmaker João César Monteiro's "Parisian diary"[1], in which he describes staying in Paris in the 1990s and stumbling upon coins in the streets every day. The artist duo write a journal, describing places passed through, their moods and reflections through their day-to-day finds. The coins are then destroyed and diverted. Out of use, they acquire a whole other value through a poetic repurposing.
Antonio Contador and Carla Cruz's search for money questions our consumption systems, our relationship with the sacred and our ways of giving. Walks, performances, readings, seminars and publications: Finding Money is a long process that evolves at the whim of invitations and encounters. (…)"[2]
Finding Money is presented at the Théâtre Brétigny as part of the cycle "Money does not buy happiness". The exhibition consists in a series of murals and a publication. This publication brings together photographs of collected elements and a recent unpublished part of the journal kept by the two artists. It was produced in collaboration with graphic designers Coline Sunier & Charles Mazé.
[1] Diário parisiense, Ed. &etc, Lisboa, 1999.
[2] Marie Bechetoille. Excerpt from a text published on the occasion of the artistic residency of Antonio Contador & Carla Cruz in Lindre-Basse with the CAC—La synagogue de Delme in 2017.
Carla Cruz is a London-based artist and independent researcher. She has a PhD in art practice by Goldsmiths, University of London. Her on-going research experiments with forms of collectivity, the erasure of authorship and practices that take place outside and in defiance of the mainstream art system. Recently, she was awarded an AHRC Cultural Engagement fund as Research Associate for Goldsmiths Art Department, in association with the community centre The Mill – of which she is currently a trustee. Carla Cruz is a member of Tottenham Hale International Studios, an artist-run organization that provides affordable working spaces for artists, where she co-organises the outreach program.
Antonio Contador lives and works in Paris. He left Vitry-sur-Seine, where he was born in 1971, in the early 1990s and settled in Lisbon. A sociologist with a PhD in the visual arts as well, he sees artmaking as a research practice in its own right. Initially focused on urban and marginal cultures, his research is now centered on the inertia of the human body and language as well as the limits of any art practice. His main themes are love and money. At the limits of a range of territories – artist, curator, creator, theoretician – his output has been shown in France (Palais de Tokyo, Fondation d'entreprise Ricard, Fondation Calouste Gulbenkian, Villa Arson, and other institutions) as well as abroad (including the Serralves Foundation in Porto, Wiels in Brussels, the Museum of the Republic in Rio de Janeiro, the National Museum of Contemporary Art in Bucharest).
Finding Money is a co-production CAC Brétigny—Théâtre Brétigny, this project has received the support of the City Hall of Porto (Portugal).
Images