Des soleils encore verts
15.07—17.07.21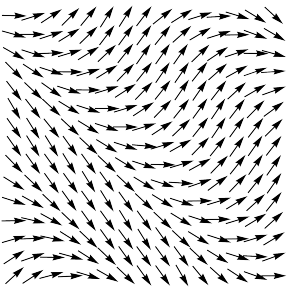 An exhibition in movement with:
Léonore Camus-Govoroff
Louis Chaumier
Jérôme Girard
Ninon Hivert
Konstantinos Kyriakopoulos
Maïa Lacoustille
Lucille Leger
Masha Silchenko
Chloé Vanderstraeten
Curated by the Champs magnétiques collective

"Des soleils encore verts"[1] is an exhibition in movement imagined by the Champs magnétiques collective, with work by nine recent graduates of the École nationale supérieure des Beaux-Arts and the École nationale supérieure des Arts Décoratifs. The title of the project, taken from a poem by Andrée Chedid, can be translated as Suns Still Green—it implies hope and new possibilities. The participating artists are united by a shared interest in what could be, whether in our world or in another. The exhibition offers potential forms of resistance, new spiritual horizons and alternative futures.
The exhibition is designed to adapt, transform and produce new forms of interaction with art. It makes use of short openings in the programming of its host venues, taking place in several acts with each occupation conceived as a fragment of a whole, growing out from previous iterations and anticipating what is yet to come. The exhibition initiates its own cartography as it takes root across multiple territories, allowing itself to be shaped by each venue.
The project's first cycle unfolds in four spaces: Mains d'Œuvres, an independent venue that supports artist projects and citizens' initiatives; CAC Brétigny, whose structure, marked by the theories of popular education and co-creation, functions as a collective space, each participating actively in the construction and identity of the project; Bétonsalon, an art and research centre whose collaborative approach invites the questioning of notions of hospitality and the commons; and finally DOC!, a space run by and for artists offering residence programmes and exhibitions. Settling in other institutions and artistic organisations remains a possibility for the future, the project potentially migrating indefinitely.
CAC Brétigny will present works by four artists whose practices are steeped in new forms of spirituality, alternative or ancestral knowledge and the occult. Their sculptures, installations and drawings emerge within our own world as fragments of a strange and wondrous landscape. By re-employing the lores and customs of traditional medicine, ancient rites and bygone languages, the installations of Léonore Camus-Govoroff and Maïa Lacoustille explore the constraints of social norms and seek to deconstruct systems of domination. Jérôme Girard's research into ancient musical practices is wrought into sound sculptures whose reverberations, sighs and harmonies suggest the presence of life. Chloé Vanderstraeten's drawings echo these sound sculptures brought to life by breathing. Stemming from a universe generated by human actions, including those of breathing, the artist's works are references to the vital gestures of inspiration and expiration, the conditions for a creation that goes beyond graphic conventions, in favour of intuition. Meanwhile, Masha Silchenko creates paintings, drawings and ceramic works that are deeply attached to the mysteries and legends pertaining to the natural world. Ethereal and sometimes creepy, her works are populated by spirits, some gentle and others maleficent. Together, these artists invite us to leave the firm ground of reason and dream up different realities.
This first cycle of exhibitions develops upon fertile ground upon which emerge artistic, curatorial and editorial practices in perpetual evolution. Champs magnétiques seeks the possibility of being together, creating together. With vagrancy at the root of its project, Champs magnétiques has no set course, preferring impulse and disorientation.
The exhibition will be accompanied by continuous film programming, designed in collaboration with the Young Cinema collective.
Members of the Champs magnétiques collective will be present permanently during opening hours to offer guided tours of the exhibition.
"Des soleils encore verts", an exhibition in movement
Mains d'Œuvres, 7-11 July 2021
CAC Brétigny, 15-17 July 2021
Bétonsalon, 30 July - 1 August 2021
DOC!, 3-5 September 2021
La Passerelle, 16-18 September 2021
Notes:
[1] Andrée Chedid, Textes pour un poème suivi de Poèmes pour un texte 1949-1991, Paris, Poésie/Gallimard, 2020.
Nearing the end of her studies at the École nationale supérieure des Arts Décoratifs, Léonore Camus-Govoroff is a non-binary artist whose practices include performance, installation and photography. Engaged in the interrogation of the "individual" and the "collective" body, she questions the systems of domination and biopolitics to which bodies must submit. Her work navigates between eco-feminism, queer anthropology, pop culture and softcore BDSM. Léonore Camus-Govoroff is motivated by a desire to question the physical and social barriers individuals face, imagining possible transgressions to these limits. Since 2019, she and Cléo Farenc have been developing Alien She, an organisation focused on the promotion of young artists who self-identify as women, queer, and/or non-binary.
Student-artist in Art-Espace at the École nationale supérieure des Arts Décoratifs, Louis Chaumier's relationship to the materials he uses evokes tenderness, this material being mundane furnishings. With their industrially-designed forms, they are reminiscent of modular architecture, omnipresent since the 1950s. These materials are repurposed by the artist to come together in different ways. His installations bring attention to ways in which we can question our immediate surroundings. The standardised forms thus allow the artist to reconfigure the real and bring new spaces to life, creating landscapes that resemble the ruins of modern life. Containing echoes of the past, the artist's installations act as spaces of potential refuge.
Jérôme Girard is a student-artist in Art-Space at the École nationale supérieure des Arts Décoratifs. Visual artist and musician, sound is at the heart of his work. He appropriates artisanal techniques to make musical instruments, some autonomous and others activated by the artist. His works create immersive environments in which moving through the space allows the visitor to experience different auditory sensations. The exhibition space is transformed by the acoustic material, which carries its own meaning and emotion. Beneath this exploration of sound as a medium lies a poetic and political vision of a rhizomatic world, inhabited by numerous connected elements to be explored with close attention. His project Sous ces vaûtes intranquilles was nominated for the COAL Student Prize in 2021.
A fifth-year student in Dominique Figarella's atelier at the École nationale supérieure des Beaux-Arts, Ninon Hivert expresses the presence of bodies and past movements, fixed in time. An observer of everyday life, she works with ceramics to model clothing-sculptures, from a photographic archive of found objects that the artist has built up over the years. These objects are charged with a double presence - that of the other's gestures, then that of the artist leaving her imprints in the amorphous material. The works of Ninon Hivert are intended to be presented in a grid, a cartography of mineralised objects , similar to fossils deposited on the ground. Like an archaeological site, the space occupied by the works brings together several temporalities: the gesture situated in the past, the moment of the object's abandon, and the discovery of the object, lived by the spectator in the present.
A graduate of the École nationale supérieure d'Arts de Paris-Cergy, Konstantinos Kyriakopoulos studies at the École nationale supérieure des Beaux-Arts in the atelier of Dominique Figarella. With each of his sculptures, Konstantinos opens spaces for collective creation and imagination, always in a collaborative process with an artist of his choice. A meeting of several artists around a bed leads to a confrontation without rules to follow, a collaboration conceived as a cohabitation. Dialogue and hospitality are at the heart of his work, questioning the imaginative powers of transformation. A bed is a pretext for creating spaces within spaces. The bed is a pretext for creating new possibilities and experiences : it can become a painting, a bus stop or a surface to play a game of developing photograms.
At the end of her studies at the École nationale supérieure des Beaux-Arts, Maïa Lacoustille is carrying out multidisciplinary work exploring installation, video, and writing, nourished by gender issues and the medieval era. She investigates language and knowledge systems, explores the mechanisms of power and domination that they imply. Turning towards both the old and the new, as illustrated by her work that involves text in Old French as well as digital manipulation, the artist calls into question our relationship with knowledge and history, as well as its implications for the future. Tired of contemporary passivity towards the marginalized, she constitutes what t she defines as "a court of miracles populated by beggars". Maïa Lacoustille is committed to making visible those whose presence has been masked.
A graduate of the École nationale supérieure d'Arts de Paris-Cergy, Lucille Leger studied at the École nationale supérieure des Beaux-Arts in the studio of Dominique Figarella. She describes her sculptures as "figures appealing to domestic space and to human attitudes and postures". By considering them as "living", Lucille Leger grants her works privacy and thus questions notions such as modesty, empathy, as well as the distance between these objects and the spectator. s, Questioning her artwork's function allows for a constant flow of transformation of materials, resulting in traces of these metamorphoses visible upon the surfaces of her works. Lucille Leger has exhibited at the Grands Voisins, Magasins généraux in Paris, Lyon, as well as in Leipzig and Athens.
Completing her studies at the Figarella Atelier École nationale supérieure des Beaux-Arts, Masha Silchenko previously studied at Odessa College of Art and Geidai, Tokyo University of the Arts, where she learned traditional ceramic techniques. Her interdisciplinary practice includes drawing, sculpture and painting on canvas. Myths, beliefs, dreams and nightmares are tamed by a sensitive and narrative interpretation. References to life, nature and the plant world come together Masha Silchenko's objects seem inhabited by presence: the bowls have bulging eyes, the vases sprout bats' wings, and miniature faces are visible within her sculptures. Her paintings exit the frame, taking shape on crumpled supports and cut at random.Delicate and haunting, Masha Silchenko's body of work speaks to a deeply felt tenderness for the world of spirits.
Simultaneously studying the printed image at the École nationale supérieure des Arts Décoratifs and an artist within the Figarella atelier at the École nationale supérieure des Beaux-Arts, Chloé Vanderstraeten has also studied at the Institute of Typography in Seoul. Using the codes of technical drawing and pictography, she practices drawing, creating printed images, and editing. Influenced by the graphic universes of Jorinde Voigt and Matt Mullican, she builds cities on paper, like an architectural project indefinitely blocked in a transitional phase that comes between the imaginary and the real. Their uses are archived in logotypes which give shape to the drawn utopias. Chloé Vanderstraeten traces invisible lines of flux, she builds and reconstructs fictitious infrastructures, finally transcribing within them human behavior: breathing, speaking, dreaming, playing, cultivating, sleeping, building.
Champs magnétiques is a collective of young curators trained by the students of the professional master degree "Contemporary art and its exhibition" of Sorbonne Université. It reunites Elizabeth Allen, Sergi Álvarez Riosalido, Lucie Brechette, Lisa Colin, Maria Claudia Gamboa, Magdalena Gemra, Thomas Maestro, Lola Majzels, Violette Morisseau, Léa Pagnier, Marie Plagnol andTom Rowell.
The exhibition «Des soleils encore verts» is supported by the Beaux-Arts de Paris, the École nationale supérieure des Arts Décoratifs (EnsAD, Paris), the Sorbonne Université, the CVEC-Crous of Paris and the City of Paris. The exhibition also benefits from an exceptional loan of films from the Collective Young Cinema and the usage of exhibitions spaces of Mains d'Oeuvres, CAC Brétigny, Bétonsalon, DOC! and Sorbonne Université.
Agenda
Thursday July 15th 2021, 2 pm—6 pm

In the presence of the artists Maïa Lacoustille, Masha Silchenko and Chloé Vanderstraeten, and the curators of the exhibition

For the second occurrence of the moving exhibition "Des soleils encore verts", the collective Champs magnétiques offers a meeting between the artists Léonore Camus-Govoroff, Jérôme Girard, Maïa Lacoustille, Masha Silchenko and Chloé Vanderstraeten at the CAC Brétigny. Listening to worlds, the works presented create new landscapes, strange and mystical universes of inhabited objects. On the occasion of the opening of the exhibition, we invite you to come and meet, in open-access tours, the artists who stand in the face of the dogmas of rationalist thought.

Free visit, for any information request: champsmagnetiquesexpo@gmail.com

Saturday July 17 2021, 4:30 pm

In the company of Maïa Lacoustille, Valentin Gleyze and Margaux Bonopera

For the last day of the exhibition at CAC Brétigny, the Champs magnétiques collective propose a round table with the artist Maïa Lacoustille, Valentin Gleyze from the Young Cinema collective, and Margaux Bonopera, curator. The discussion will take as its starting point reflections on the occult, contemporary spiritualities and alternative knowledge offered by the works in the exhibition, with which resonates the short film program designed by the Young Cinema collective. We will thus ask the question of the meeting, between artistic but also esoteric proposals.

Followed at 6 pm by a friendly moment around an aperitif.

Registration recommended at champsmagnetiquesexpo@gmail.com